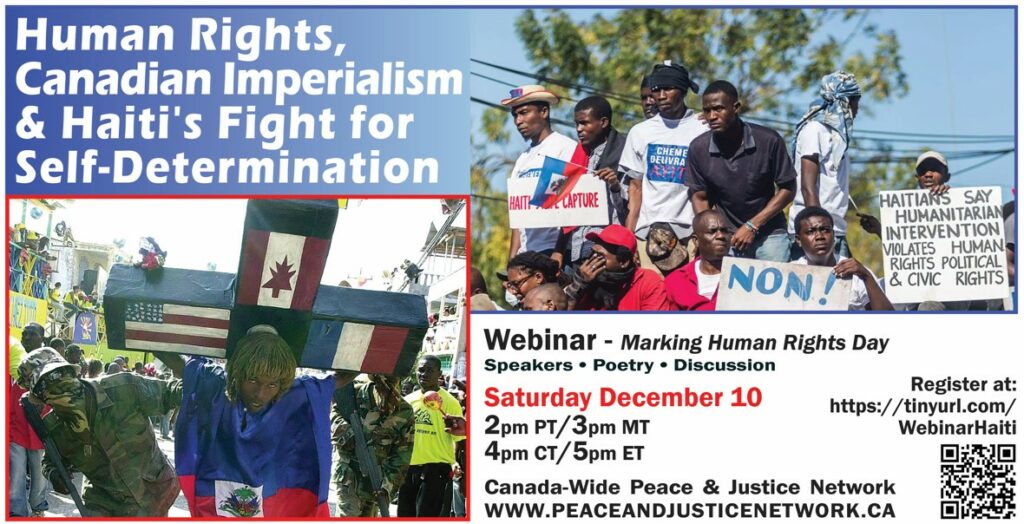 Human Rights, Canadian Imperialism and Haiti's Fight for Self-Determination
Haitians are currently protesting on a massive scale and Canada is leading the international push for foreign military intervention. Why is Canada interested in military intervention? How are human rights concerns being leveraged to justify military expansion? How did we get here in the first place? This International Human Rights Day, join World BEYOND War Canada and the Canada-Wide Peace and Justice Network on December 10th at 5pm ET to hear from critical thinkers on the issues at hand.
Featuring:
>> Jean Saint-Vil – author and member of Solidarity Quebec Haiti. He is the co-founder of AKASAN (Ayisyen ki ap soutni Ayisyen nètalkole) and Jaku Konbit. Jean is an artist-activist immersed in Global Peace and Social Justice movements. (Jafrikayiti.com)
>> Dimitri Lascaris – lawyer, human rights activist and former candidate for the leadership of the Green Party of Canada. He is based in Montréal. Follow Dimitri on Twitter @dimitrilascaris
+ Poetry by Laura Doyle Péan – Laura Doyle Péan (they/them) is a queer Haitian-Quebecois poet and multidisciplinary artist committed to social justice and fascinated by the relationship between art and movement work. Born in Nionwentsïo (Quebec city), where they first got involved in intersectional feminist, LGBTQIA2S+, migrant justice and racial justice organizing, they moved to Tiohtià:ke/Mooniyang (Montreal) in 2019, to attend university, and joined the fossil fuel divestment movement. They are also one of the founding members of Collective 1629, a Black-led Quebec-city-based collective fighting against racial profiling and other forms of anti-Black state violence in Nionwentsïo.
+ Special Intervention by Barbara Waldern – connecting human rights struggles in Haiti, the Philippines and beyond. Barbara represents Just Peace Committee, a member group of Canada-Wide Peace & Justice Network and the International League of Peoples' Struggle (ILPS)
Moderated by Janine Solanki – Vancouver-based activist and organizer with Mobilization Against War & Occupation (MAWO) a member group of Canada-Wide Peace & Justice Network